Seven Studies for Vibraphone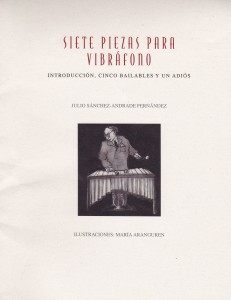 Sánchez-Andrade Fernández, Julio (original drawings by María Aranguren). Seven Studies for Vibraphone: Introduction, five Dances and a Farewell. La Corrada: Copyright 2006.
These seven intermediate level studies for vibraphone are intended to contribute to expand the written literature of this instrument by studying different styles and dances. The drawings and texts are used to provide additional information, looking for a inspired performance.