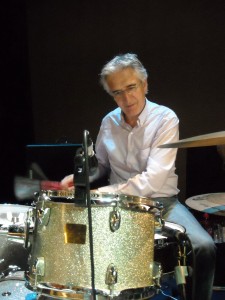 Julio Sánchez-Andrade Fernández
Percussion Senior Lecturer, Royal Conservatory of Music in Madrid and Ph.D., University of Oviedo, was 2nd Prize National Contest for Cultural Research, Ministry of Culture "Marqués de Lozoya" (2004) and Extraordinary Doctorate Prize (2006).
He has written works on church bells and traditional percussion of Asturias, a book of studies for vibraphone and another of drum set and piano duets.
He has collaborated with different symphonic orchestras and, also, he has formed a part of groups of music of varieties, rock, traditional, and combos and big bands of jazz, with whom he has played the drum set and percussion in numerous recordings.
In the educational field he has given conferences and courses in the RIDEA of Oviedo (2007); L'Arribada, of Gijón (2009); ISA, of Havana (2009, 2011 y 2012) and Conservatoire L. Campiani, of Mantova (2012)
Also, he has been a Percussion teacher in the conservatoires of León, Luarca, Avilés and Gijón. From the year 2006 he's a teacher of Percussion in the CONSMUPA.
He's currently pursuing doctoral studies at the Faculty of Pedagogy at the University of Oviedo, researching on Percussion Pedagogy in the Spanish Conservatories of Music.